U.S.A.
Not a live tree falls
for our burnishments.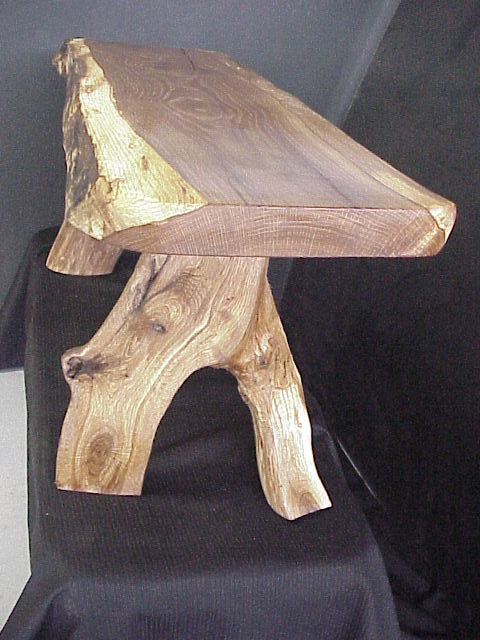 Email

mikejust3022@gmail.com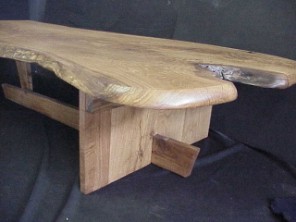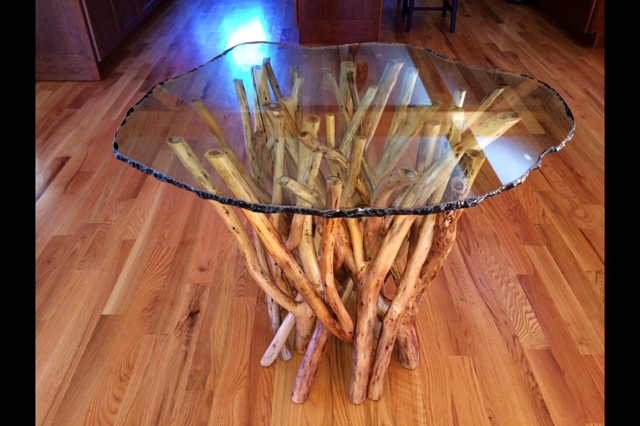 Email mikejust3022@gmail.com
Rustic Furniture from the log - Glass Top Tables - Tree Table Sculpture P.O. Box 143, Wilson, Kansas, 67490, US
Copyright 1996 - 2019 - Mike Just - Rustic, natural, organic. Elegant root Furniture - Glass Top stump Tables - Art Furniture - Sculpture All images, rustic furniture design elements and other content represented on this web site are protected under United States and International copyright laws and are the sole property of Michael W. Just, unless otherwise noted. All use and/or publication rights are reserved, worldwide. All represented images and content are not in the Public Domain. No images, or furnishing designs represented on this web site may be copied, stored, manipulated, published, sold or reproduced in whole or in part without the express permission of an authorized representative of Rustic Oak, Mike W. Just, TreeTables.com. Simply Ask.
Sculpted and carved " theme " tables.
Wood, stone, or bronze.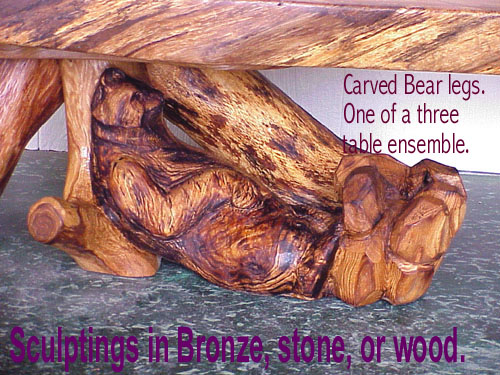 We work with wood, stone, or bronze. Original carvings or sculptings can be as detailed as you wish including the detail of an eyebrow. Costs start at $3,800 for a small original piece created in wood. The above "Bear" table ensemble / carving: Mamma bear, Pappa bear, and baby bears playing in a mountain stream could be re-created for about $14,000.
Let us know thoughts. Sketches and renderings available. Contact us, to discuss your theme ideas. You will be in direct contact with the artisans.

Table designs by: Mike Just
Chet Cale: Sculptor/Carver

QUESTIONS?
Click HERE to contact us. Refer to " Carved theme tables " in your message. Give us an approximate size and any further information you can share.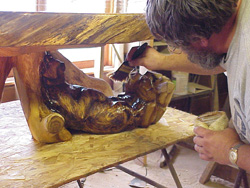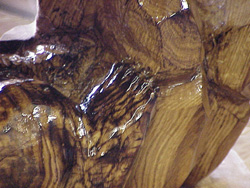 More images of center table detail.
Final finishing touches.
Detailing of your theme table can be down to the toe nails.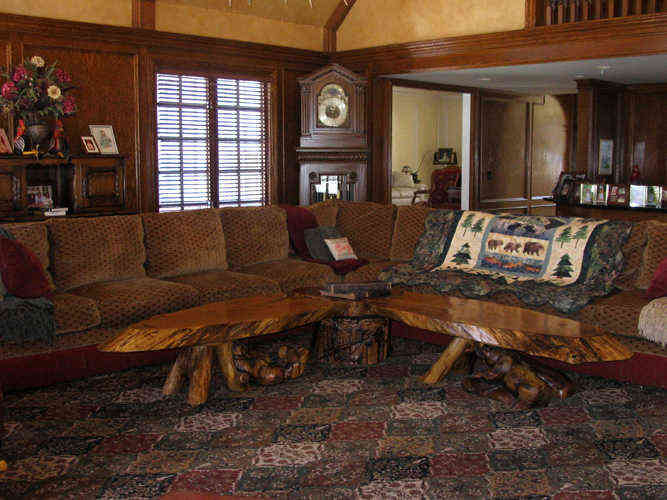 I received a phone call in 2006. The gentleman wanted a theme table. The theme for the room was an English Hunting Lodge. Above is depicted, the result. A three table ensemble. Tables snuggling together with "jigsaw puzzle edgings", wrapping around an "L" shaped sofa. "Bears" being the principal theme selected for the table ensemble and the room setting of an "English Hunting Lodge".
This is the left table, of the three.