U.S.A.
Not a live tree falls
for our burnishments.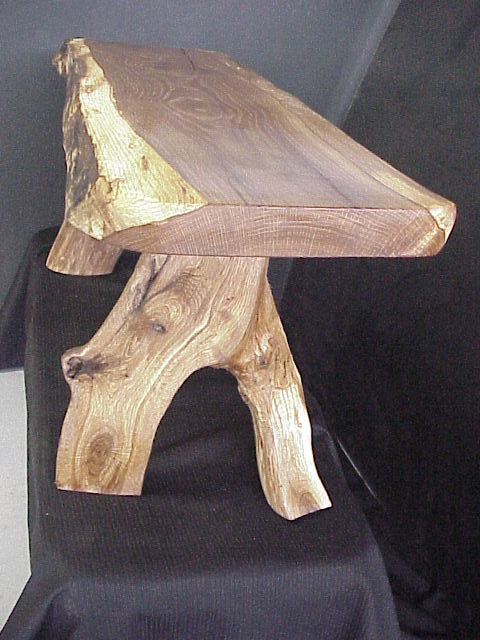 Email

mikejust3022@gmail.com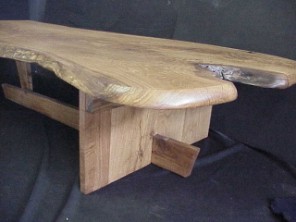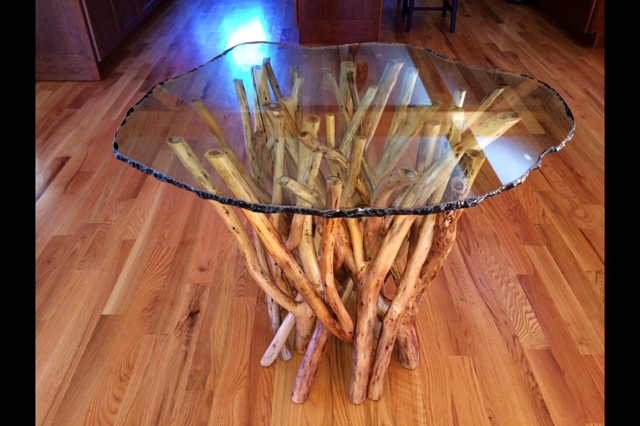 Email mikejust3022@gmail.com
Rustic Furniture from the log - Glass Top Tables - Tree Table Sculpture P.O. Box 143, Wilson, Kansas, 67490, US
Copyright 1996 - 2019 - Mike Just - Rustic, natural, organic. Elegant root Furniture - Glass Top stump Tables - Art Furniture - Sculpture All images, rustic furniture design elements and other content represented on this web site are protected under United States and International copyright laws and are the sole property of Michael W. Just, unless otherwise noted. All use and/or publication rights are reserved, worldwide. All represented images and content are not in the Public Domain. No images, or furnishing designs represented on this web site may be copied, stored, manipulated, published, sold or reproduced in whole or in part without the express permission of an authorized representative of Rustic Oak, Mike W. Just, TreeTables.com. Simply Ask.
In progress photo (July, of 08), below, of Tia's large root table.
This intricate piece is shown on it's side as we work on the detailing of the root structure. When complete; the roots will face UP and be covered with a 3/4 inch thick oval glass top; 8 feet long and 48 inches wide. This extraordinary root ball table will seat 10 very comfortably.

I have had the opportunity to create a great number of unique tables in my years. THIS one is at the top of the list in uniqueness, is quite mezmerizing, even at this stage of it's development, folks come by the shoppe off of the street and just stare, transfixed by the beauty of natures art.

Scroll down to view and learn more.

What we are doing at this point (photo below) in development is detailing. That is to say; cleaning out all of the cracks and crevices. Cleaning and sanitizing. A variety of tools and systems are used for this process including: high pressure air blasting of fine sand, corn meal, and even fine baking flour. Additionally, we blast alcohol into the fine crevices.. for sanitation purposes.
The final step in detailing is hand sanding. All of the surfaces, even into the the crevices, will be fine sanded prior to beginning the application of clear, satin sheen finishes.


The table, pictured here, still on it's side depicts the flatness of the cut (right side of photo) that will receive the glass top when it is completed.

Specially designed sawing and router table jigs allow for the accuracy of the cut.
July 27th, 08

Photo's below, were taken during an early stage of finishing. The finish will receive numerous hand rubbed coats yet. We thought the root structure and the unique graining worth a look. Please Scroll down
Click smaller images, below, to enlarge.
Tia's root table. A " works in progress page. Below, the most recent photo's first. Further, below photo's of progress, as it occurred at various stages of this table's development.
Directly below are photo's taken at an earlier stage of progress on this table. Click onto photo's to enlarge.
Root Stump Table
(inverted, roots up)
Tia's inverted root dining table ( Great Bend, Kansas) . Was a full 8 foot long oval glass top .

The inverted root style works equally well for cocktail or conference tables.
Costs
Coffee tables of this style range in cost from $4,700.00 for a small root base of about 3 foot diameter to around $5,500.00 for larger pieces.

Dining tables start at $7,500 for 5 foot tables and go up to $15,000.00 for 7 to 8 foot tables. The intricate nature of the roots on a particular piece can also affect the cost of its making.

Please check with us on availability of larger sizes as large roots, properly shaped are not commen.
This photo was taken during the finishing process. Glass is not installed upon the top yet. This is a shoppe photo.