U.S.A.
Not a live tree falls
for our burnishments.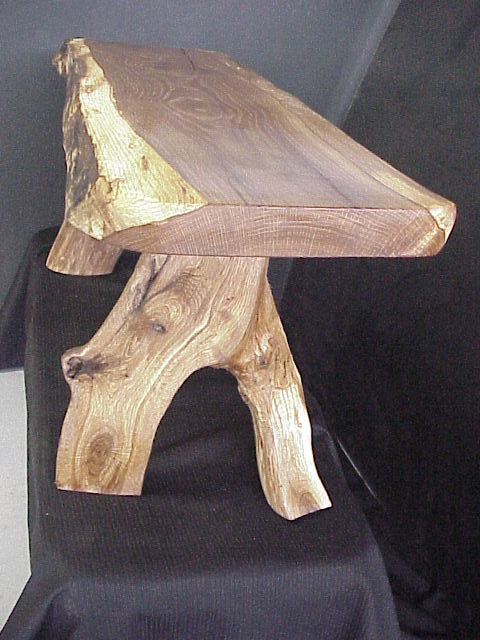 Email

mikejust3022@gmail.com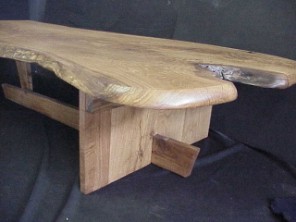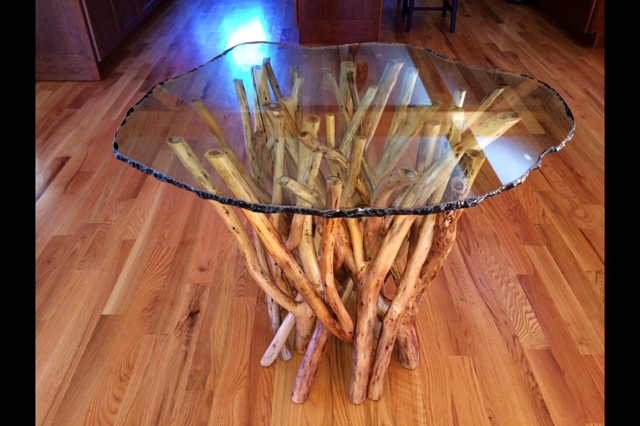 Email mikejust3022@gmail.com
Rustic Furniture from the log - Glass Top Tables - Tree Table Sculpture P.O. Box 143, Wilson, Kansas, 67490, US
Copyright 1996 - 2019 - Mike Just - Rustic, natural, organic. Elegant root Furniture - Glass Top stump Tables - Art Furniture - Sculpture All images, rustic furniture design elements and other content represented on this web site are protected under United States and International copyright laws and are the sole property of Michael W. Just, unless otherwise noted. All use and/or publication rights are reserved, worldwide. All represented images and content are not in the Public Domain. No images, or furnishing designs represented on this web site may be copied, stored, manipulated, published, sold or reproduced in whole or in part without the express permission of an authorized representative of Rustic Oak, Mike W. Just, TreeTables.com. Simply Ask.
Email from the client:

Mike,
It is AWESOME!! What a work!! Lisa will take photos and send them to you next week. I'm not a camera person, so I'll have to request your patience for a few more days. You can rest assured, though, that everything looks REALLY good!
Please feel free to use my name as you see fit. May I make the same request of you?"

Regards,
Joe Kaplan
L.A., California -- update - more tangles for Joe, click here for more.
Pacific Palasades, Calif.
Tangled table by Mike Just
Larger Tangle
Tables
for a dining & conference
for small tangles click
here
---
---
Each tangle is created one at a time, by hand. A compilation of many specially selected for their shape, branches. The tangle is created from the inside, out. Each branch meticulously and, painstakingly joined, one to another in numerous places. This joinery is made to appear as though the branches grew together. A root table.

I hope you enjoy your tangle as much as we do, in preparing it for you.

Mike Just
Designer

Cost ranges for larger tangles

For cocktail tangle cost ranges, click here.

I have created larger tangled root bases for glass tops ranging up in size to 10 foot long and 48 inches wide.
.
Each is created one root and one branch at a time. Glass tops may be cut to shape per your request. A variety of edgings are available. Shown left are a few edgings.

Total costs vary with size, shape, glass thickness and edging.
Below are a few examples to give you an idea of costs. You may purchase your own glass if you wish. Due to chances of breakage, that is often most practical.
48 inch round, 1/2 inch thick glass top " " " " $ 4,800.00
Round, 60 inch diameter, 1/2 inch thick glass top w/ tangle root base - $ 5,760.00
Round 72 inch diameter, 3/4 inch thick glass top, polished pencil edging $ 8,420.00

96 inch long elyptical oval glass, 3/4 inch thick top $ 13,529.00

Each tangle is uniquely created: Contact us with your SIZE AND SHAPE ( contact us below )
Cost estimates, above, include glass with polished pencil edging. Other edging choices are available. On irregular shapes, we are happy to send needed dimensions or templates to your glass supplier for their cutting requirements. Shipping costs are additional for these tables.

NOTE: If you have your own glass or wish to purchase locally, that's fine. Let us know and we will adjust costs accordingly. There are a few occasions, on longer tables, where we prefer, to fit the glass to the base. We can discuss that when you contact us.

Shipping costs for dining and conference tables - apprx $550.00 using our " blanket wrap " carrier.( more ) Delivery is to your curbside. Final ship costs are calculated upon completion of table when final weight, dimensions, and, destination address is known.
How to contact us - Just use the contact form, below and send us a message.

If you wish, call me ( Mike )at my design shoppe at (785) 658 3449. Ask for Mike Just. Or email me, mike,
rustic@wtciweb.com
A few of the glass edgings, below.
Extreme Glacier
Polished pencil
Arctic Edging
We have one of these currently in progress, to view
Click HERE.
To view a slide show of various tangle table designs, Click HERE.
View a page of tangle table photos, HERE.