U.S.A.
Not a live tree falls
for our burnishments.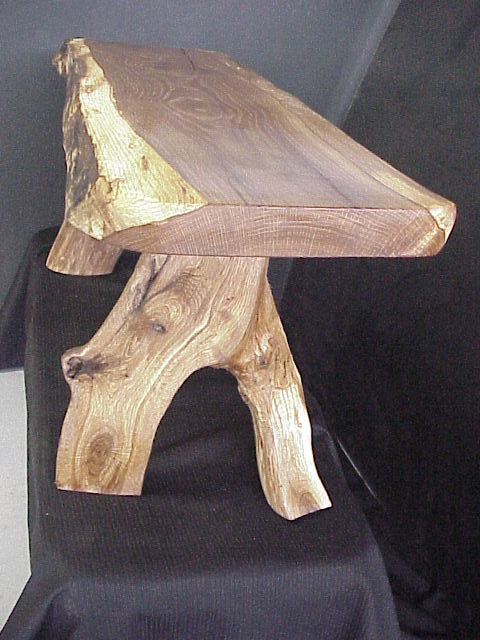 Email

mikejust3022@gmail.com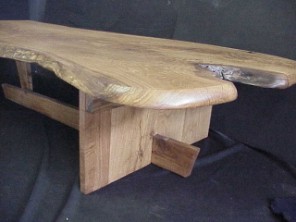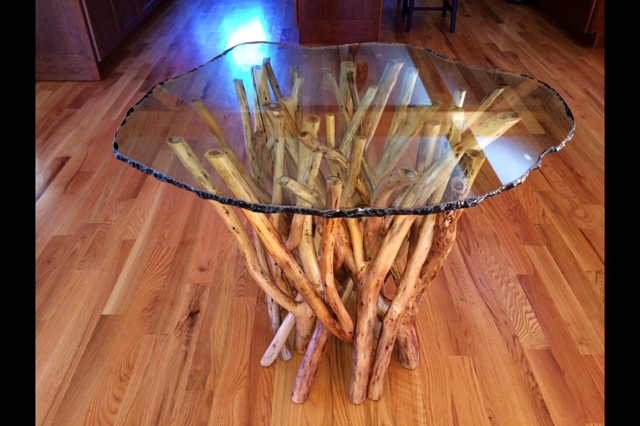 Email mikejust3022@gmail.com
Rustic Furniture from the log - Glass Top Tables - Tree Table Sculpture P.O. Box 143, Wilson, Kansas, 67490, US
Copyright 1996 - 2019 - Mike Just - Rustic, natural, organic. Elegant root Furniture - Glass Top stump Tables - Art Furniture - Sculpture All images, rustic furniture design elements and other content represented on this web site are protected under United States and International copyright laws and are the sole property of Michael W. Just, unless otherwise noted. All use and/or publication rights are reserved, worldwide. All represented images and content are not in the Public Domain. No images, or furnishing designs represented on this web site may be copied, stored, manipulated, published, sold or reproduced in whole or in part without the express permission of an authorized representative of Rustic Oak, Mike W. Just, TreeTables.com. Simply Ask.
Oak Tree Tangles
Free Formed Cocktail Tables
by Mike Just
A 3/4 inch thick by 30 inch diameter piece of clear glass on top of a free formed oak branch base. The base is numerous individual Burr Oak branches. Each selected for it's shape & character. Then, joined together forming a strong, integrated structure. Every joint is created to be invisible. When viewing the branches, they appear to have grown together.

A natural tree root table, artistic in nature.

The tangle table may be created in a variety of shapes: round, oval , or irregular and amorphics.

My first task is selecting specific roots and branches. They are selected for their shape and form, most often from the oak tree.

Costs will vary with sizes and shapes. Contact us ( below ) with your specifics for an exact quote. Below are a few examples of costs, to give you an idea.

Costs printed below, include pencil edged glass. You may have your own glass or, wish to purchase locally. That is fine, we will credit your order. Let us know your thoughts. You may email the designer direct.

Mikejust3022@gmail.com

please feel free to copy and paste into your email system

Artistic edgings such as the artic edging shown above are extra costs and available from us.

Use as Cocktail & End tables

For dining type tables, click HERE.
Round, 20 inch diameter, 3/8 inch thick glass to w/ tangle root base - $2,622.00

Round, 30 inch diameter, 1/2 inch thick glass top w/ tangle root base - $4,391.00.
40 inch long elyptical oval glass, 1/2 inch thick top - tangle root base - $4,912.00.
42 in. long three tiered table base, w/ 1/2 inch glass, (as pictured above) - $6,056.00.

Created one at a time to your specifications. Contact us with your specific dimensions and glass edging requests. Costs as presented above, include 1/2 inch pencil edged glass.

Shipping costs are additional
but run about $285.00 for smaller tangles to around $500 for larger ones. Final ship costs are calculated upon completion of table when weights, dimensions, and destination are known.
Three Tiered Tangle - Georgia
Enlarged photo click
here
.
30" round tangle cocktail table, pencil edged glass.

View more about tangled bases HERE.
Artistic, amorphic shaped, glacial edged glass tops. Cut to fit an amorphic shaped tangled base.
View the Making of a Tangles
Click HERE.
You may wish to VIEW a SLIDE SHOW of various tangles HERE.
We are currently working on one of these in the shop..