U.S.A.
Not a live tree falls
for our burnishments.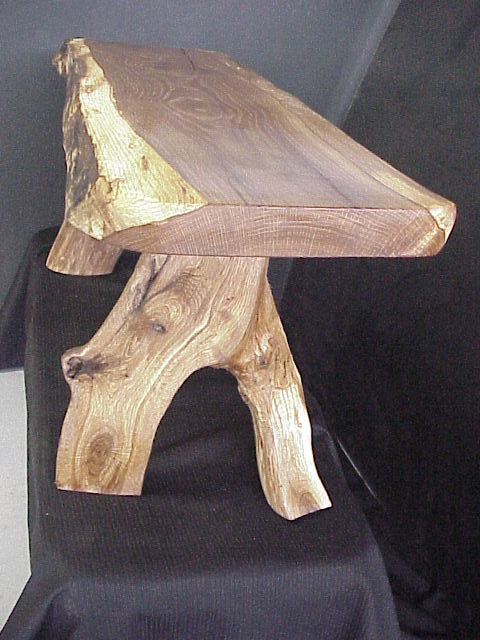 Email

mikejust3022@gmail.com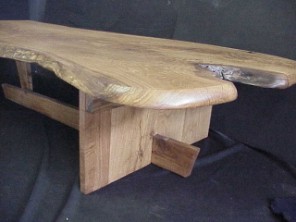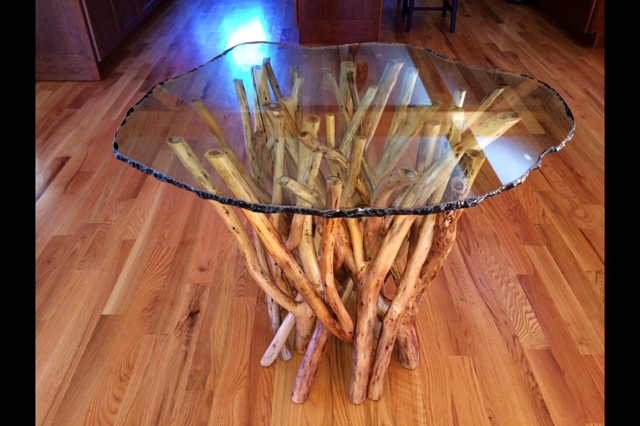 Email mikejust3022@gmail.com
Rustic Furniture from the log - Glass Top Tables - Tree Table Sculpture P.O. Box 143, Wilson, Kansas, 67490, US
Copyright 1996 - 2019 - Mike Just - Rustic, natural, organic. Elegant root Furniture - Glass Top stump Tables - Art Furniture - Sculpture All images, rustic furniture design elements and other content represented on this web site are protected under United States and International copyright laws and are the sole property of Michael W. Just, unless otherwise noted. All use and/or publication rights are reserved, worldwide. All represented images and content are not in the Public Domain. No images, or furnishing designs represented on this web site may be copied, stored, manipulated, published, sold or reproduced in whole or in part without the express permission of an authorized representative of Rustic Oak, Mike W. Just, TreeTables.com. Simply Ask.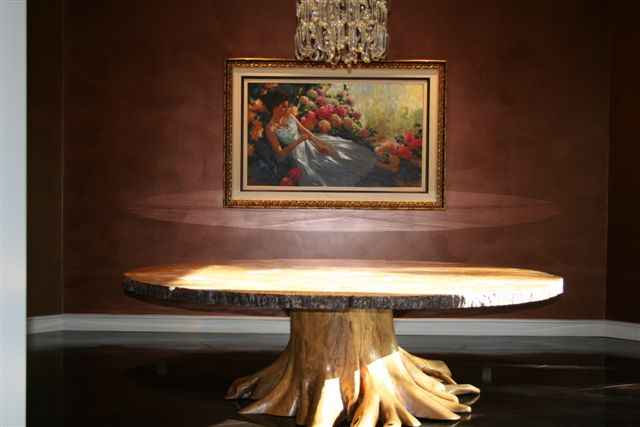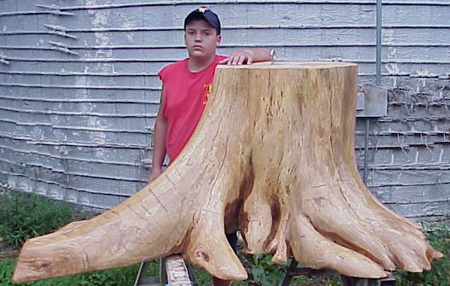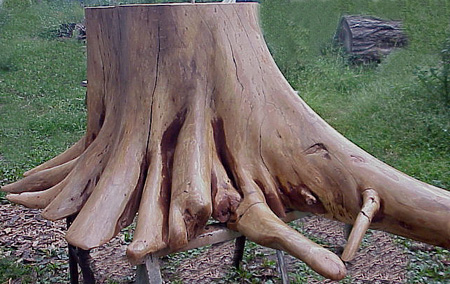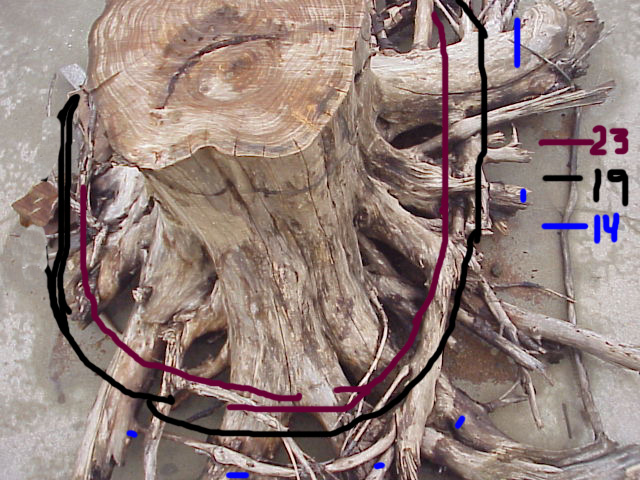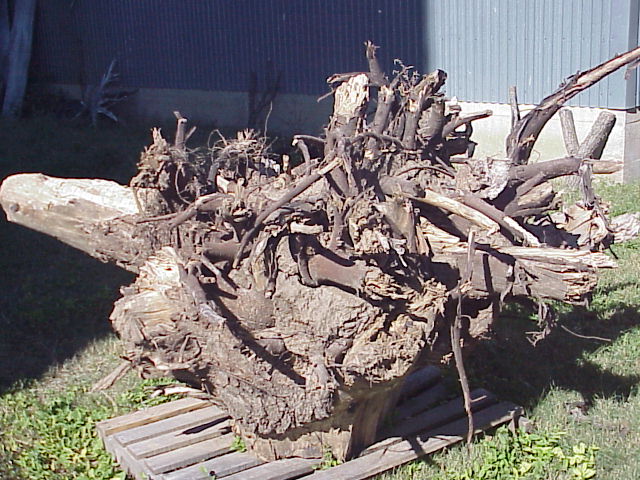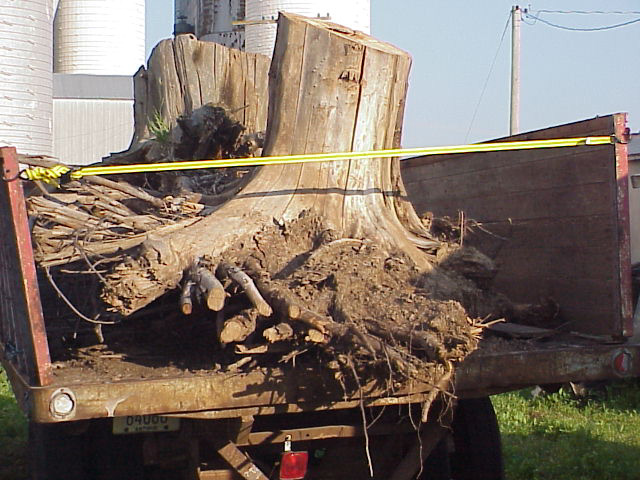 The Transformation Process

One of the more important tasks is selecting the basic piece from which a table is to be made.

The design discussions:

Case in point, the Dallas project (onyx stone top root table, above). First, a root stump was decided upon mutually between client and their designer. This, after a number of questions were answered, and design suggestions emailed back and forth.

Questions went like this;
Before
After
1) What was the intended use of the table? Cocktail, dining, etc.

2) What shape of top is desired for the table? What are it's general dimensions?

3) What general coloration or hue? Light or Darker wood?

4) What is the decor? Type of floor , walls, materials, colors?

Once this information was communicated; I was ready to select a piece for the project.

If you would like suggestions for your stump table, you initiate a similar question and answer
session as above, by clicking onto subject # 8 (Help in selecting) located at the top of this page.
Below are before and after photo's. Further down this page are photographs that outline the process a stump passes thru in it's transformation into a beautiful natural table.

Also find below, useful links to help explain differences in stump table styles.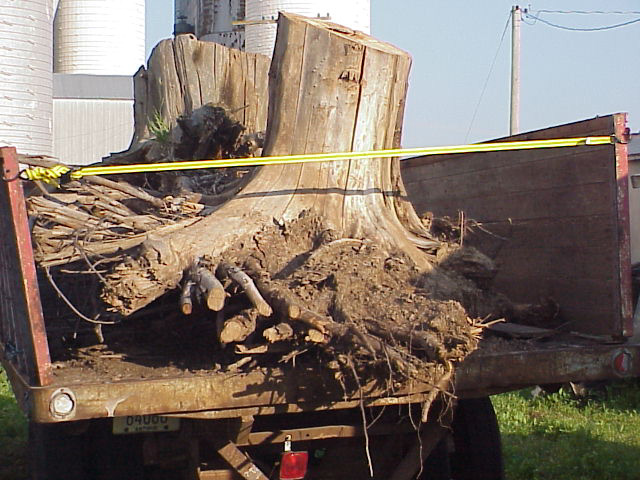 Upon knowing the table requested was a root style and, the top was to be 8 feet in diameter onyx stone weighing 2,000 lbs.; I selected this piece with a span across the roots of nearly 8 feet.

Plenty of room to shape and trim.

Another photo of the piece, upside down, after a brief trimming.

Experience, along with the information you provide; intended use, size of top, etc. allows me to select pieces that provide the look as well as functionality.

They are pretty UGLY at this stage.
With a large portion of dirt removed, more detail of the roots begins to emerge.

The colored lines and numbers on the photo represent various "toe or foot room" dimensions. One of the more important functional considerations for a table that is to seat people. The size of the table top and location of the lower base are deciding factors.
All major trimming is completed at this stage, and a 4 stage sanding process completed and, a first sealer applied.
The first step in a series of steps that we call "detailing" has taken place. Visible as a darker brown stain has been applied to accentuate certain areas (look close at the indentations).

This so that when moved inside, under natural lights, it will appear as the darkness of a shadow actually created by the sun, outside. You can see the result in next photo, down.

Further detailing will be applied to the small character traits; insides of cracks, worm holes, and knots.

Our detailing process utilizes tiny brushes, Q-tips, and even high pressure air blasting of baking flour. All, targeted to provide the fineness we seek for our work.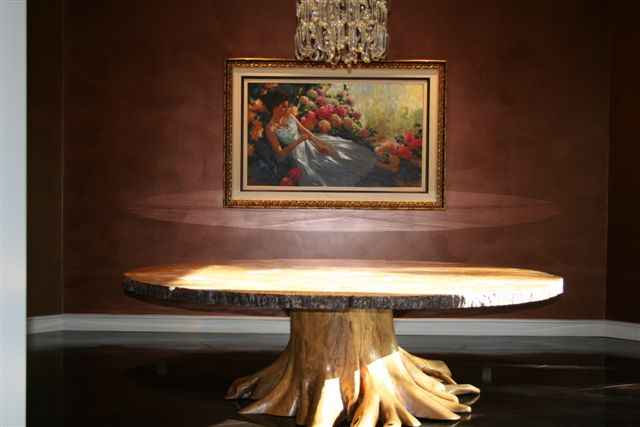 And, the transformation is complete.

This onyx topped, root table sets upon a marble floor.

Nature bought indoors. In luxurious fashion.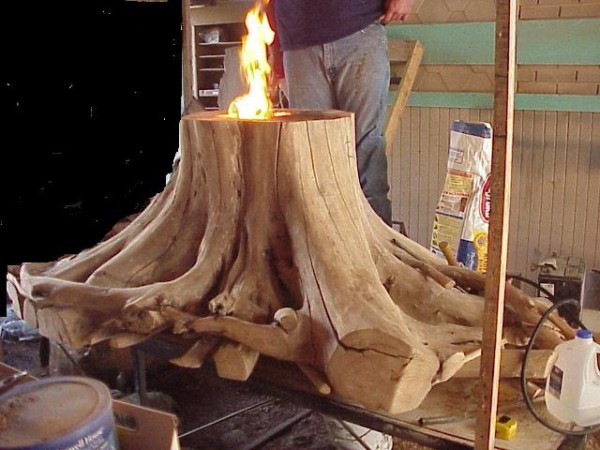 After trimming and a rough sanding/cleaning of the exterior; it's time to pay attention to the inside. We start by hollowing it out. Then, kilns are normally employed for the seasoning process. However, kilns are mundane to look at so, we thought this dramatic photo would serve as an example of the process we call "seasoning".

This process varies per stump depending upon age, speci, and size. How long it takes, also varies. The commen thread, however, is that when seasoning is complete; the stump is ready to serve it's function as a piece of furniture, with beauty, longevity and, trouble free. Digital equipment is utilized to measure moisture contents during this process. More on seasoning.
Scroll down to view this table as it progressed.